Order products with your personal engraving of choice
Personalise your smoking accessories! Create unique products by personalising metal goods such as hookahs and mouthpieces with an engraving.
Get unique pieces for your home, on the go or as a gift for good friends, your lover or relatives.
In a few steps to your own personal engraving
For an individual engraving we charge an additional amount of 10,00 Euro.
Engravable products have an input field on the corresponding product detail page. Enter the desired content in the text field. You will see that the price of 10,00€ will now be added to the order price. Then add the product to your shopping cart.
Would you like to add the same product to your shopping cart without the engraving text? Remove the text from the input field, select the desired quantity and add the product to your shopping cart again. Done!
If no engraving option is specified for your desired product, although you are sure that engraving is possible, simply contact our customer support team with confidence. We will be happy to help you!
Which characters can be engraved
A maximum of 20 characters can be engraved, including spaces. The engraving can only be done in one line!
- The letters of the German alphabet (A-Z, ß, Ä, ä, Ö, ö, Ü, ü)
- Numbers from 0 to 9
- Punctuation marks such as full stops, commas, hyphens, as well as exclamation marks and question marks (. , : ; + -_' ! ? \ / ")
- Special characters by arrangement ( § $ € @ # * ♥ ☺)
- Pay attention to upper and lower case as well as correct spelling! We engrave 1:1 exactly what you send us!
Here we show you by means of some hookahs how an engraving could look like on metal products.
---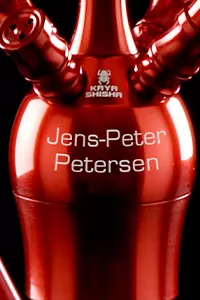 ---
Please note
- Customised products CANNOT be exchanged!
- When ordering an engraving, the delivery time may be extended by a maximum of 10 days if the order volume is high.
- When engraving a hookah base, individual letters may become slightly distorted if the surface is rounded. This is not a reason for complaint.
-
It is not possible to order an engraving when paying by cash on delivery!
---